Tropical Butterfly Exhibitions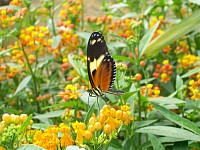 Tropical Butterfly Gardens
Design, creation and management of commercial and private tropical butterfly exhibitions.  
With over 30 years experience of creating and managing live tropical exhibitions and private butterfly houses across the globe we can help you bring your vision to life or just advise on improving existing butterfly houses.
contact Luke on +44(0)7796676820 or +44(0)1793878891 or email luke@thebutterflygardener.co.uk to discuss your needs.