Tropical Butterfly Exhibitions, Domestic Gardening, weddings, product launches, TV/Film And All Things Butterfly
Latest News
After an epic project in Saudi Arabia at the end of last year, Covid 19 has delayed our overseas projects for a while. Although this has meant that I have been expanding my waist line, it has also enabled me and the team to work on some live butterfly units that will be used for weddings and product launches. More news coming soon.
Tropical Butterfly Exhibitions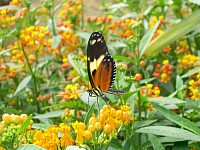 Tropical Butterfly Gardens
Design, creation and management of commercial and private tropical butterfly exhibitions.  
With over 30 years experience of creating and managing live tropical exhibitions and private butterfly houses across the globe we can help you bring your vision to life or just advise on improving existing butterfly houses.
contact Luke on +44(0)7796676820 or +44(0)1793878891 or email luke@thebutterflygardener.co.uk to discuss your needs.
Domestic Gardening Service.